Mullen Reports Preliminary Summary of Financial Results for Second Quarter
Q/Q cash and cash equivalents rose to +$65.2M, driven primarily by the issuance of Mullen's Series C Preferred Stock at $8.84/share
Notes payable, current portion fell approximately -10.8% Q/Q to $16.9M
Total assets rose approximately 138.4% to slightly over +$100M, driven mainly by financing activities
Stockholders' equity rose favorably Q/Q from a deficit of -$10.5M to a surplus of +$52.6M
Subsequent to the period ended March 31, 2022, Mullen Automotive Inc. entered into an agreement with Thurner Design to develop the Mullen FIVE RS, a high-performance EV sport crossover vehicle featuring close to 1,100 HP, 0-60 mph in 1.95 seconds, and a top speed of 200 mph
Between late April and early May 2022 Mullen Automotive received an aggregate of $15M from the exercise of the CEOcast equity line of credit in exchange for warrants to acquire common stock. CEOcast has exercised its warrants for 12.7M common shares extinguishing this credit facility.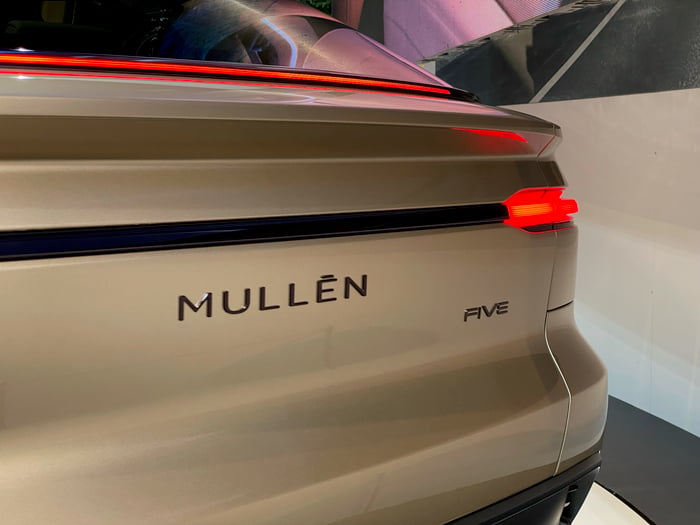 BREA, Calif., May 13, 2022– via InvestorWire – Mullen Automotive, Inc. (NASDAQ: MULN) ("Mullen" or the "Company"), an emerging electric vehicle ("EV") manufacturer, an emerging electric vehicle ("EV") manufacturer, announces today preliminary financial results (subject to change) for its period ending March 31, 2022.
As of March 31, 2022, Mullen's cash and cash equivalents amounted to $65.2 million primarily due to $43.9 million from the issuance of 4,974,214 Series C Preferred Stock and 14,922,667 in associated warrants to the selling stockholders that were listed within the S-3 Registration Statement, declared effective on April 15, 2022. Additionally, the Company received $29.6 million in net proceeds under the $30 million Esousa Equity Line, dated Sept. 1, 2021.
Total debt of $22.1 million continues its downward trend. Debt has decreased significantly from Sept. 30, 2021, due to principal paydowns, debt payoffs, and conversion of convertible debt to equity. Tax liabilities decreased to $2.8 million from $4.2 million, which is comprised of IRS and other tax jurisdictions related to payroll taxes and sales and use taxes. On April 14, 2022, the Company signed an IRS installment agreement to pay the remaining balance for federal payroll-related liabilities via monthly payments of $45,000.
In May 2022, Mullen signed a proposal with Thurner Design for the vehicle development of the Mullen FIVE RS, a high-performance EV sport crossover vehicle featuring close to 1,100 HP, 0-60 mph in just 1.95 seconds, and 200 mph top speed. The proposal includes two phases: 1) design, surfacing, and design support, and 2) visualization and high imaging. The Thurner Design team is responsible for shaping and directing designs and brands like Rolls-Royce Motorcars, Bentley Motors, Bugatti, Porsche, Lamborghini, Aston Martin, and Mullen Automotive. The Mullen FIVE RS was previously announced to join Mullen's "Strikingly Different" Test Drive Tour in the Spring of 2023.
Mullen FIVE reservations increased substantially in the March 31 ending quarter and more than doubled the volume attained in the last quarter of 2021, which included the world debut of the Mullen FIVE at the Los Angeles International Auto Show in November 2021. Reservation progress continues to build and shows strong consumer interest.
"We have made significant progress during the second quarter and have demonstrated significant finance progress for moving forward," said David Michery, CEO and chairman of Mullen Automotive. "Our balance sheet continues to improve and our EV programs are all moving forward, including the start of the Mullen FIVE RS program."
About Mullen:
Mullen is a Southern California-based automotive company that owns and partners with several synergistic businesses working toward the unified goal of creating clean and scalable energy solutions. Mullen has evolved over the past decade in sync with consumers and technology trends. Today, the Company is working diligently to provide exciting EV options built entirely in the United States and made to fit perfectly into the American consumer's life. Mullen strives to make EVs more accessible than ever by building an end-to-end ecosystem that takes care of all aspects of EV ownership. For more information, please visit www.MullenUSA.com.

Forward-Looking Statements
This press release contains "forward-looking statements." Words such as "may," "should," "could," "would," "predicts," "potential," "continue," "expects," "anticipates," "future," "intends," "plans," "believes," "estimates" and similar expressions, as well as statements in the future tense, often signify forward-looking statements. These forward-looking statements include, without limitation, statements relating to the reverse merger, the Nasdaq approval process, and the proposed debut date of the Mullen FIVE (formerly MX-05) midsize crossover. These forward-looking statements are, by their nature, subject to significant risks and uncertainties.

Forward-looking statements should not be read as a guarantee of future performance or results and may not be accurate indications of when such performance or results will be achieved. Forward-looking statements are based on information that the Company has when those statements are made or management's good faith belief as of that time with respect to future events and are subject to risks and uncertainties that could cause actual performance or results to differ materially from those expressed in or suggested by the forward-looking statements, including factors beyond the Company's control. As a result of these and other risks, uncertainties, and assumptions, forward-looking events and circumstances discussed herein might not occur in the way the Company expects or at all. Accordingly, readers should not place reliance on any forward-looking information or statements. The Company assumes no obligation to publicly update or revise its forward-looking statements as a result of new information, future events, or otherwise. All forward-looking statements herein are qualified by reference to the cautionary statements set forth in this section.

Contact:
Mullen Automotive, Inc.
+1 (714) 613-1900
www.MullenUSA.com