Mullen Commemorates Start of Class 3 Vehicle Production with Successful Commercial EV Launch Event
Commercial EV Launch event took place today, Aug 24, 2023, at Mullen's Tunica, Mississippi, assembly facility and featured a company presentation, factory tour and vehicle test drives
BREA, Calif., August 24, 2023– via InvestorWire – Mullen Automotive, Inc. (NASDAQ: MULN) ("Mullen" or the "Company"), an emerging electric vehicle ("EV") manufacturer announces that it held its first Tunica open house event today, highlighting its first Class 3 EV trucks rolling off the assembly line.
Today's launch event was conducted to provide attendee's the opportunity to visit Mullen's Tunica facility. In addition to a facility tour, the event featured a company presentation and test drives for Class 1 and Class 3 commercial vehicles. Attendees included local county and state leadership, media, investors and customers.
Visitor's Interact at Mullen Open House Event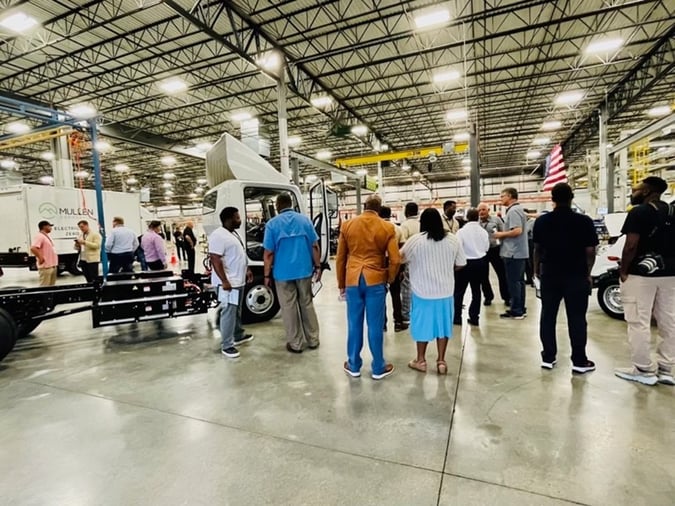 Photo from Aug. 24, 2023
Mullen's Tunica, Miss., Production Floor Area During Open House Event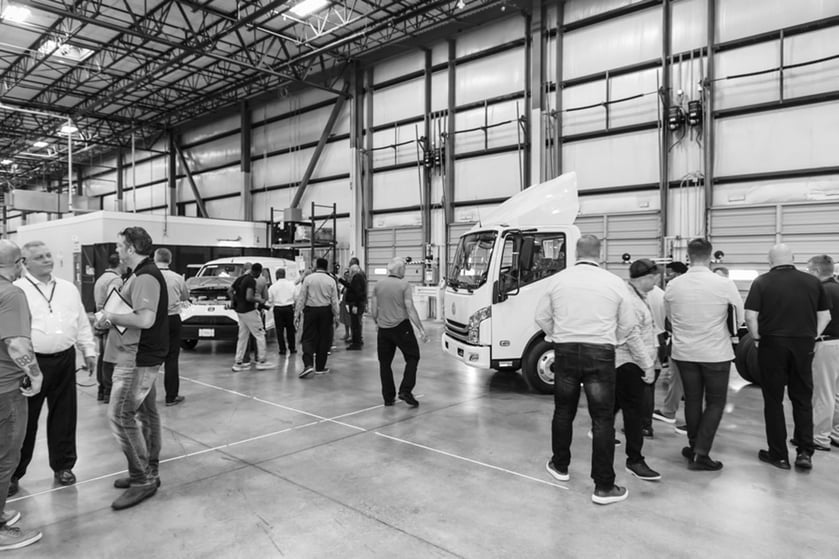 Photo from Aug. 24, 2023
"It's exciting to share this milestone with local leadership, investors and customers," said David Michery, CEO and chairman of Mullen Automotive, Inc.

Mullen will be gradually ramping up its Class 3 production rate through the remaining of this calendar year. Once full acceleration has been achieved, production capacity at the Tunica facility is currently planned at 3,000 Class 3 vehicles annually per shift. As electric vehicle adoption rates increase, Mullen plans to add a second shift for Class 3 production, which will increase capacity to 6,000 total vehicles per year.

During the ramp up in volume of the Mullen THREE, the production testing and launch of the Mullen ONE, Class 1 EV Cargo Van will also take place in Tunica, achieving deliveries on customer orders for both commercial Class 1 and Class 3 vehicles by year end.
Mullen Class 1 EV Cargo Van on Display During Open House Event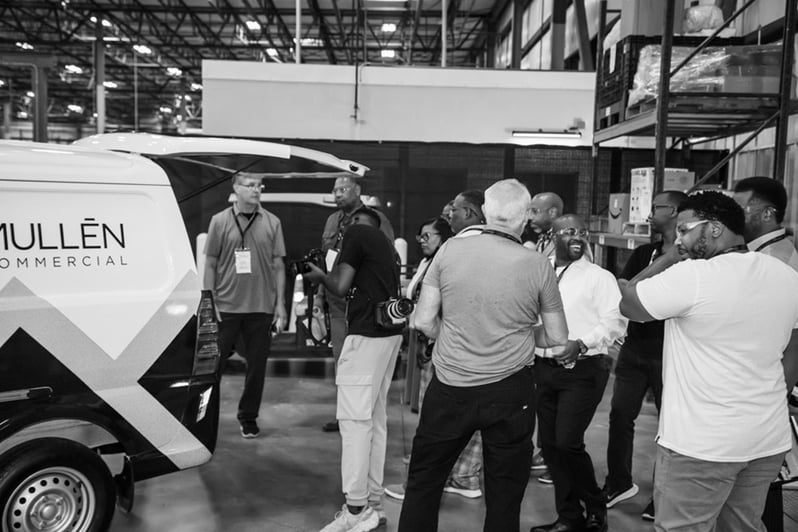 Photo from Aug. 24, 2023


"Whenever a new vehicle program hits this stage, it's great that we can bring key people to the plant like we did today with our dealer, Randy Marion, and first customer, MGT, so they feel the excitement first-hand and see the reality that our vehicles are heading their way very soon," said John Schwegman, Chief Commercial Sales Officer, Mullen Automotive, Inc.

Mullen's Tunica commercial manufacturing center includes over 120,000 square feet and is situated on over 100 acres. The facility is focused on production of Class 1 and Class 3 commercial EV vehicles and is in close proximity to all major rail lines, interstates, Mississippi river systems, and air logistics, placing it in a primary logistical center of North America. Mullen has been aggressively growing employee count in Tunica over the last few months to support commercial vehicle production.

The Mullen THREE, with a MSRP starting at $68,500, qualifies for $7,500 in federal tax incentives, is an efficient Class 3 low cab forward EV truck featuring an 11,000 Gross Vehicle Weight Rating, a tight turning diameter of 38 feet, and excellent visibility for superior maneuverability on narrow city streets. This versatile chassis provides a clean top-of-rail for easy upfitting with bodies up to 14 feet long and over 5,800 pounds of payload.

John Taylor, SVP Global Manufacturing, Presentation During Open House Event
Photo from Aug. 24, 2023
About Mullen
Mullen Automotive (NASDAQ: MULN) is a Southern California-based automotive company building the next generation of electric vehicles ("EVs") that will be manufactured in its two United States-based assembly plants. Mullen's EV development portfolio includes the Mullen FIVE EV Crossover, Mullen-GO Commercial Urban Delivery EV, Mullen Commercial Class 1-3 EVs and Bollinger Motors, which features both the B1 and B2 electric SUV trucks and Class 4-6 commercial offerings. On Sept. 7, 2022, Bollinger Motors became a majority-owned EV truck company of Mullen Automotive, and on Dec. 1, 2022, Mullen closed on the acquisition of Electric Last Mile Solutions' ("ELMS") assets, including all IP and a 650,000-square-foot plant in Mishawaka, Indiana.
To learn more about the Company, visit www.MullenUSA.com.
Forward-Looking Statements
Certain statements in this press release that are not historical facts are forward-looking statements within the meaning of Section 27A of the Securities Exchange Act of 1934, as amended. Any statements contained in this press release that are not statements of historical fact may be deemed forward-looking statements. Words such as "continue," "will," "may," "could," "should," "expect," "expected," "plans," "intend," "anticipate," "believe," "estimate," "predict," "potential" and similar expressions are intended to identify such forward-looking statements. All forward-looking statements involve significant risks and uncertainties that could cause actual results to differ materially from those expressed or implied in the forward-looking statements, many of which are generally outside the control of Mullen and are difficult to predict. Examples of such risks and uncertainties include but are not limited to the dates anticipated for commercial vehicle production launches, the date of vehicle delivery to customers, contemplated vehicle selling prices, the number of production shifts and vehicles that will be built at the Tunica facility annually, whether the contemplated federal tax benefits will materialize and whether the Mullen THREE will be a success. Additional factors that could cause actual results to differ materially from those expressed or implied in the forward-looking statements can be found in the most recent annual report on Form 10-K, quarterly reports on Form 10-Q and current reports on Form 8-K filed by Mullen with the Securities and Exchange Commission. Mullen anticipates that subsequent events and developments may cause its plans, intentions and expectations to change. Mullen assumes no obligation, and it specifically disclaims any intention or obligation, to update any forward-looking statements, whether as a result of new information, future events or otherwise, except as expressly required by law. Forward-looking statements speak only as of the date they are made and should not be relied upon as representing Mullen's plans and expectations as of any subsequent date.

Contact:
Mullen Automotive, Inc.
+1 (714) 613-1900
Wire Service Contact:
InvestorWire (IW)
Los Angeles, California
212.418.1217 Office