Mullen Announces New Stops for the 2023 'Strikingly Different' EV US Tour
Eight additional locations include New York City, Boston, Detroit, Denver, Salt Lake City, Sonoma, Phoenix, and Los Angeles
BREA, Calif., September 14, 2023– via InvestorWire – Mullen Automotive, Inc. (NASDAQ: MULN) ("Mullen" or the "Company"), an emerging electric vehicle ("EV") manufacturer, today announces new stops for the 2023 "Strikingly Different" EV U.S. tour. The current tour includes a stop today, Sept. 14, 2023, in Charlotte, North Carolina, at Charlotte Motor Speedway. Up next will be Dover Motor Speedway on Sept. 18 and 19 and covers stops in Washington, D.C., and Philadelphia, Pennsylvania.

2023 'Strikingly Different' EV Test-Drive Tour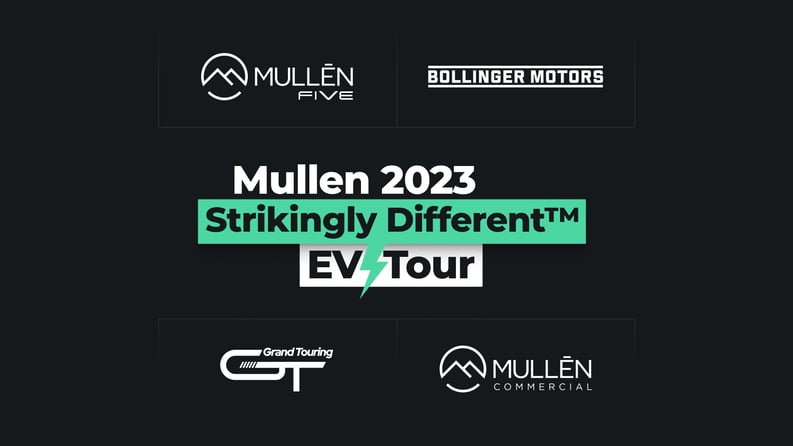 New stops include New York City, Detroit, Denver, Sonoma, and Phoenix.
The 2023 "Strikingly Different" tour kicked off late summer on Aug. 20, 2023, in Austin, Texas, and will run until November 2023. This year's tour will cover the South, East Coast, Midwest, and West Coast before finishing up in California. All locations and details on how to register can be accessed here.
All locations for the 2023 tour include:
August 2023
Austin, Texas – Aug. 20 & 21 at Circuit of Americas (Completed)
New Orleans, Louisiana – Aug. 29 & 30 at NOLA Motorsports Park (Completed)
September 2023
Charlotte, North Carolina – Sept. 13 & 14 at Charlotte Motor Speedway (Book Now)
Washington, D.C., and Philadelphia, Pennsylvania – Sept. 18 & 19 at Dover Motor Speedway (Book Now)
New York City, New York – Sept. 22 & 23 at Citi Field (Just Added)
Boston, Massachusetts – Sept. 26 & 27 at New Hampshire Motor Speedway (Just Added)
October 2023
Detroit, Michigan – Oct. 3 & 4 at M1 Concourse (Just Added)
Denver, Colorado – Oct. 10 & 11 at Empower Field (Just Added)
Salt Lake City, Utah – Oct. 17 & 18 at Utah Motorsports Campus (Just Added)
Sonoma, California – Oct. 23 & 24 at Sonoma Motor Speedway (Just Added)
November 2023
Las Vegas, Nevada – Oct. 31 & Nov. 1 at Las Vegas Motor Speedway
Phoenix, Arizona – Nov. 6 & 7 at Podium Club (Just Added)
Los Angeles, California – Nov. 2023 TBD
Mullen EV reservation holders and investors will again receive priority to secure a place on the tour. However, Mullen expects to accommodate all interested individuals, with more tour stops and vehicles available in 2023.
"We're proud to announce additional locations across the U.S. for our 'Strikingly Different' U.S. EV tour. More locations equal more opportunity for the public to come out and see our EVs and interact with our team," said David Michery, CEO and chairman of Mullen Automotive.
This year on tour, the public will have the opportunity to test-drive and experience Mullen's commercial and retail EVs on world-class racetracks across the country, meet and interact with the Mullen team, and check out the latest electric vehicle technology the Company has been working on, including AI-powered PERSONA, Mullen's proprietary advanced facial recognition technology. The Mullen EVs on tour include:
Mullen FIVE EV Crossover
Mullen FIVE RS High-Performance Sport EV Crossover
Mullen GT High-Performance Electric Sports Car
Mullen ONE Class 1 Commercial EV Cargo Van
Mullen THREE Class 3 Commercial Low Cab Forward
Bollinger B2 Electric Pick Up
2023 EVs Featured on Mullen's Tour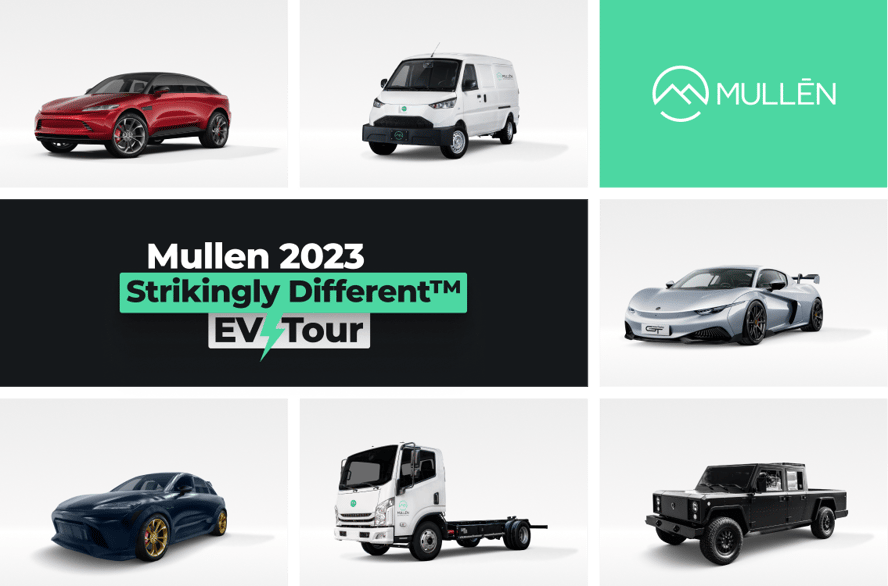 Mullen FIVE and FIVE RS, Mullen Commercial and Bollinger Motors
About Mullen
Mullen Automotive (NASDAQ: MULN) is a Southern California-based automotive company building the next generation of electric vehicles ("EVs") that will be manufactured in its two United States-based assembly plants. Mullen's EV development portfolio includes the Mullen FIVE EV Crossover, Mullen-GO Commercial Urban Delivery EV, Mullen Commercial Class 1-3 EVs and Bollinger Motors, which features both the B1 and B2 electric SUV trucks and Class 4-6 commercial offerings. On Sept. 7, 2022, Bollinger Motors became a majority-owned EV truck company of Mullen Automotive, and on Dec. 1, 2022, Mullen closed on the acquisition of all of Electric Last Mile Solutions' ("ELMS") assets, including all IP and a 650,000-square-foot plant in Mishawaka, Indiana.
To learn more about the Company, visit www.MullenUSA.com.
Forward-Looking Statements
Certain statements in this press release that are not historical facts are forward-looking statements within the meaning of Section 27A of the Securities Exchange Act of 1934, as amended. Any statements contained in this press release that are not statements of historical fact may be deemed forward-looking statements. Words such as "continue," "will," "may," "could," "should," "expect," "expected," "plans," "intend," "anticipate," "believe," "estimate," "predict," "potential" and similar expressions are intended to identify such forward-looking statements. All forward-looking statements involve significant risks and uncertainties that could cause actual results to differ materially from those expressed or implied in the forward-looking statements, many of which are generally outside the control of Mullen and are difficult to predict. Examples of such risks and uncertainties include but are not limited to: the commencement and completion dates of the "Strikingly Different" EV Tour; the vehicles that will participate in the tour; the states and locations where the tour is anticipated to take place; whether all members of the public who attend the tour will be afforded the opportunity to test-drive the vehicles; whether the Mullen FIVE RS will perform as expected; and whether the tour will be a success or result in any vehicle purchase orders. Additional factors that could cause actual results to differ materially from those expressed or implied in the forward-looking statements can be found in the most recent annual report on Form 10-K, quarterly reports on Form 10-Q and current reports on Form 8-K filed by Mullen with the Securities and Exchange Commission. Mullen anticipates that subsequent events and developments may cause its plans, intentions and expectations to change. Mullen assumes no obligation, and it specifically disclaims any intention or obligation, to update any forward-looking statements, whether as a result of new information, future events or otherwise, except as expressly required by law. Forward-looking statements speak only as of the date they are made and should not be relied upon as representing Mullen's plans and expectations as of any subsequent date.


Contact:
Mullen Automotive, Inc.
+1 (714) 613-1900
www.MullenUSA.com