Fleet Forward Conference | Santa Clara, CA | November 8-10, 2023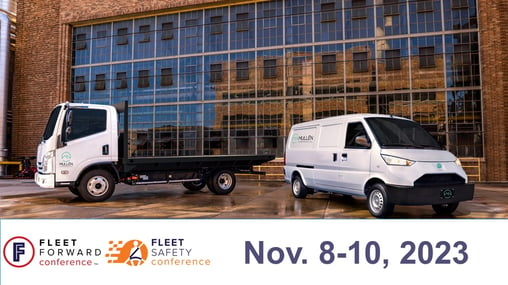 Mullen Commercial is coming to Fleet Forward Conference, the only mobility event dedicated specifically for fleets.
When: Nov 8th – 10th, 2023
Where:  Marriott Santa Clara, Santa Clara, CA
What to Expect: Our Technology, Sales, and Product Marketing teams will be present, ready to discuss your fleet needs and help you sign up for a vehicle demo! See our Mullen ONE, class 1 EV cargo van, and Mullen THREE, class 3 EV low cab forward, on display.
About the Event
Fleet Forward Conference (FFC) is designed to deliver fleets solutions on electrification, connected vehicles, autonomous technology, last-mile mobility, IoT, shared mobility, Fleet Management as a Service, next-generation telematics, and more. In 2022, FFC received two major updates to the programing: an expanded ride and drive and a new safety track, Fleet Safety Conference. Attendees will have multiple opportunities to drive electric vehicles, mingle with product experts, and experience new technologies behind the wheel in a large outdoor interactive space.