Electric Utility Fleet Managers Conference (EUFMC) | Williamsburg, VA | June 4-7, 2023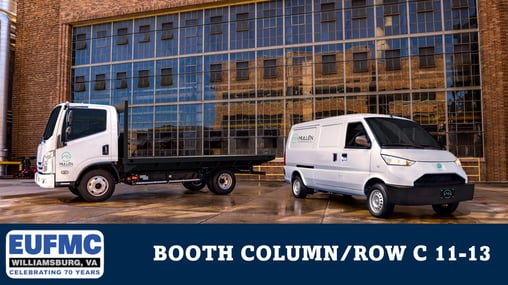 Mullen Commercial is coming to EUFMC, an educational conference attended by representatives of fleets from across the U.S. and Canada that operate, manage and maintain utility equipment.

When: June 4th – 7th, 2023

Where: Williamsburg VA Convention Center, Williamsburg, VA; Booth Column C, Row 11-13

What to Expect: Our Technology, Sales, and Product Marketing teams will be present, ready to discuss your fleet needs and help you sign up for a vehicle demo! See our Mullen ONE, class 1 EV cargo van, and Mullen THREE, class 3 EV low cab forward, on display.

About the Event

EUFMC, a non-profit association Driving Safety, Sustainability & Technical Expertise, is to provide educational and technical information pertaining to the design, procurement, application, operation, management, and maintenance of utility equipment. The conference provides a forum where fleet professionals can exchange information and discuss mutual challenges, find solutions, and develop best practices through close cooperation with manufacturers and suppliers of vehicles, equipment, products, and services for utility fleet operations.