Mullen Providing Aerial Coverage and Commercials for Major NFL and NASCAR Events This Weekend
Mullen Providing Aerial Coverage and Commercials for Major NFL and NASCAR Events This Weekend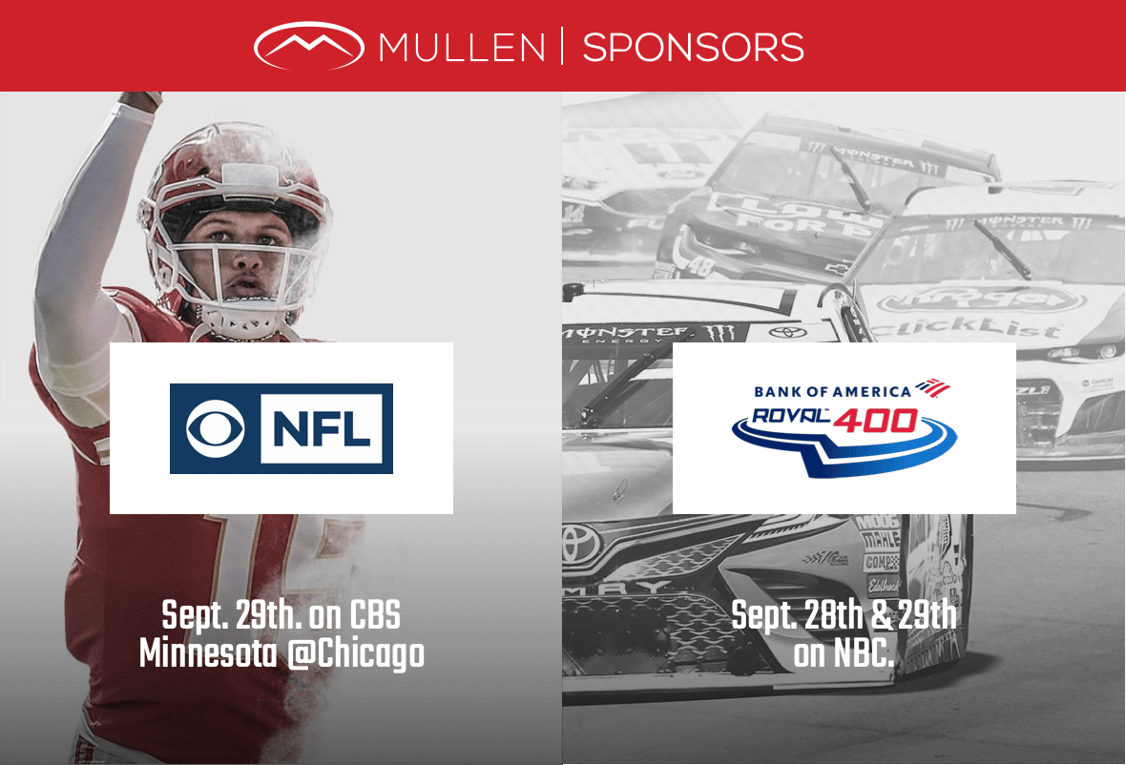 BREA, California, September 27, 2019 - Mullen Technologies, Inc. ("Mullen" or the "Company") will provide aerial coverage for two major sporting events this weekend, Sept. 28th and Sept. 29th, 2019. On Saturday and Sunday, Mullen will be in the air above Charlotte Motor Speedway in North Carolina, first for the Drive For The Cure 200, Xfinity series race airing live on NBCSN. On Sunday, Mullen provides aerial coverage of the ROVAL 400 airing live on NBC. Prime time commercials for Mullen's K50 electric supercar will also air during both daily events.

Also on Sunday, Mullen will provide CBS and the NFL with aerial coverage of the Minnesota Vikings vs. Chicago Bears matchup, airing live from Soldier Field in Chicago, IL. The game will be televised nationally to most US markets with Jim Nantz and Tony Romo announcing the matchup for CBS.

"It's getting down to it with the beginning of the playoffs for NASCAR, with four drivers being eliminated after last weekend's race," says Mullen Founder and CEO (and NASCAR fan), David Michery. "Anybody interested in high performance – both from cars and drivers – will be watching this weekend, so we are proud to both provide them with great overhead coverage and introduce them to our electric sportscar, the K50."

Regarding the NFL Sunday grudge match between the perennial NFC North division rival Vikings and Bears, Michery says, "Anytime these two teams meet, you know it's going to be a great – and highly rated – battle. It's an ideal time to introduce a lot of fans to Mullen, and specifically our K50 electric sportscar, which rivals any other cars in its class for engineering, style, and performance."

Coverage for Saturday's Drive For The Cure 200 begins at 3:30pm EST.

Coverage for Sunday's ROVAL 400 begins at 2:30pm EST.

Coverage for Sunday's Viking vs. Bears matchup begins at 4:25pm EST.

About Mullen Technologies:

Based in Southern California, Mullen Technologies is a licensed electric vehicle manufacturer. Mullen Technologies owns a number of synergistic businesses including: Mullen Auto Sales, a fast-growing series of pre-owned auto dealerships through California, CarHub, a new and unique digital platform that leverages AI to offer an interactive solution for buying, selling and owning a car and Mullen Finance Corp., a captive finance arm for consumer vehicle leases and loans. In addition, Mullen is currently working independently and with several OEM partners to provide exciting electric vehicles that will fit perfectly into the American consumer's life.


Legal Notice Regarding Forward-Looking Statements-Looking Statements:

This press release contains "forward-looking statements." Words such as "may," "should," "could," "would," "predicts," "potential," "continue," "expects," "anticipates," "future," "intends," "plans," "believes," "estimates," and similar expressions, as well as statements in future tense, often signify forward-looking statements. Forward-looking statements should not be read as a guarantee of future performance or results and may not be accurate indications of when such performance or results will be achieved. Forward-looking statements are based on information that the Company has when those statements are made or management's good faith belief as of that time with respect to future events and are subject to risks and uncertainties that could cause actual performance or results to differ materially from those expressed in or suggested by the forward-looking statements. The Company assumes no obligation to publicly update or revise its forward-looking statements as a result of new information, future events or otherwise. set forth in this section.
For Information, Please Contact:
Mullen Technologies, Inc.
+1 (714) 613-1900
marketing@mullenusa.com